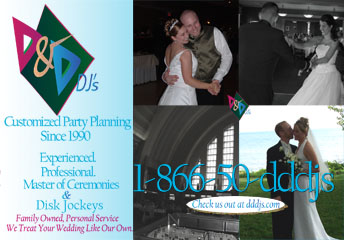 20th Anniversary Event!
Fill out our Wedding Survey to and one luck winner will receive a free DJ at their Anniversary Party! 
Go to Survey Monkey Here
D&D DJ's has provided highly trained Master of Ceremonies and Disk Jockeys to the Cincinnati Area since 1990.
We specialize in Weddings and include a Coordinator to make sure the night goes perfect.
Call us today, 1-866-50-dddjs, to find out why we are the best in town.
News:
Sharonville Free Wedding Winners: Jeff Schmitt and Michelle King
Our New Logo provided by Artist and Web-Designer Phil Davis
P.O. Box 107 Milford, OH 45150
1-866-50-dddjs
© 2006D&D DJ's. All rights reserved.
Last updated: Friday, May 05, 2006